Yay! Surprise extra comic. I didn't halftone it just because the halftone obstructed certain details which made it impossible to work out what was going on.
…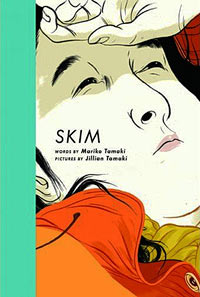 One of writing teachers encourages us to write not so much about the fact that it's raining but more about the feeling of being rained upon.
I find it really hard to write reviews of books, apart from "I read it" and "you should read it."
Today I bought Skim by cousins Mariko and Jillian Tamaki. The minute I picked it up I knew it was going to be some quality shit. The story is one of them "this is what it's like to be a tenth grade girl" kinda tales, seemingly aimed towards those readers as well. But I felt the story was good enough that it moved beyond that "narrow" aim. When comparing Skim to a book within the same "narrow" genre, like Good As Lily (by Derek Kirk Kim and Jesse Hamm), Skim comes out to be the better title. I mean, as much as I enjoyed Good As Lily, the Tamaki Cousins just seemed to put five times as much effort into Skim. The book itself felt alive, and the characters were probably some of the best examples of three dimensional characters; a perfect measuring stick for me to strive towards. It's been a while since I've been so enveloped by a story so well written and well drawn; while reading it I actually felt like I was inside the main character's mind looking out through her eyes. (Or: I felt like I was being rained upon as opposed to merely reading about it raining.) You must read it.
FURTHER INFO ON SKIM:
• DRAWN!
• 6 page preview…