July 22nd, 2019
Yay! So I decided to continue working on "Moose River Gaiden" for the time being. I don't know how long I'll work on it for, and what it'll cover… I'm just sorta taking this day by day. Today's comic is literally the first brand new "Moose River" page I started-and-finished in one day since 2009. Hopefully it won't be until 2029 until the next brand new page comes along, but I'm not making any promises. :3
NEW METHODS:
That said, I am putting some new equipment and methods that I've picked up over the past something years towards this new comic effort. In particular, I've always wanted a large-format scanner (11″x17″), but I could never scrape up the $250-$300 for one. Prior to that my scanner was at least a Legal-sized scanner (8.5″x14″), but it was only compatible with Mac OS 9, and yeesh, that's a long story. Since then I was stuck with Letter-sized scanners (8.5″x11″) which sucked trying to scan in high quality pages; I had to resort to drawing two frames on a single sheet of Letter-sized paper and merging them together in Photoshop.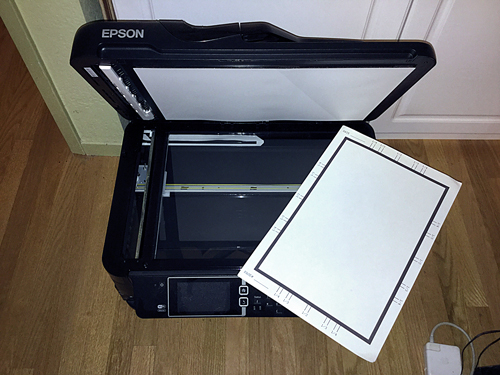 But those days are no more! A few months back I managed to find a large format scanner/printer at Savers for a mere $25! Now I scan draw in a much larger format, allowing me to pack in more details! Take a look at the difference in scale that I'm now able to work with: the page on the left is today's comic in raw form, while the one on the right is the raw for Page 184. Wow! That's a lot of extra room!
Part of the benefit for this is when I use a brush to ink my pages with. Since I've switch to using a brush pen, but also because I'm still learning how to ink better with a brush pen, the extra room gives me a bit more wiggle room in order to ink in without the errors looking too bad. Hopefully though I'll be able to have a bit better control with the brush and my comic pages will look far better than they've ever looked.
"NEW" ORIGINAL PAGES FOUND:
Finally, while digging around my old art files and trying to find old notes to work with (as well as ideas to turn into new Moose River Gaiden pages), I managed to stumble upon the very last three pages I drew for Moose River, which I intended for Chapter 7; they were intended to be pages 204, 205 and 206:
Of course I'm not gonna show anything, silly! Because now that I found them, I might actually ink them and finally include them at the end of Chapter 7, where they belong. Unfortunately they start a new story thread which may never see the light of day, but at least it's something new! That said, if I do work on these pages and add them to the end of Chapter 7, I'm gonna ink them in my prior format (no brush, same line thickness, thick outline) in order to maintain a consistent look for them. Cuz I mean, who knows, I may end up finishing Chapters 7 through 9 afterall, and I want to make sure I keep a standard look and style throughout.
Anyways, that's all I got to share with you for now. Sorry for not posting much over the past week… my work load had increased significantly and I had very little free time to draw with. But hopefully this changes over this upcoming week.